CUI's Applied Solutions Lab
---
CUI's Applied Solutions Lab
CUI has a technical practice that helps the public and private sectors b

uild capacity for informed, creative decisions; s

hape public policy; and i

mplement the best community practices.
Through CUI's Applied Solutions Lab, w
e apply
knowledge developed over nearly three decades of experience in Canada and internationally.
We visualize data and organize information to understand relationships.
We generate insights and recommendations to inspire action.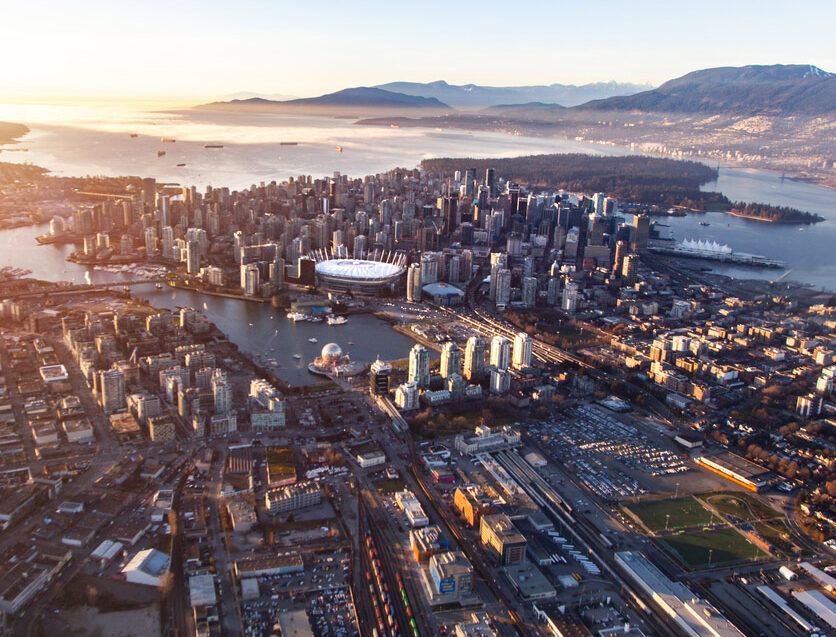 ---
1. Research


We explore data and experience.
We carry out research to help communities identify needs and opportunities. We collect, analyze and visualize data from disparate sources to help understand the local context. To develop benchmarks, we analyze best practices and real-world lessons from community experiences. We are experts at organizing information to uncover and communicate patterns and relationships.
2. Solutions
We solve problems.
To develop practical solutions to issues confronting communities, we lead cross-disciplinary teams assembled from our staff and network of associates. By bringing diverse interests and expertise together, we seek to inspire holistic problem solving. We design our work to provide communities and stakeholders with a clear path forward.
3. Knowledge Sharing
We facilitate and educate.
Through community consultations, focus groups and interviews, we engage directly with stakeholders to resolve growth and development challenges. We create and manage partnerships to transform industry practices and hold events to share expert thinking and promote discussion on a variety of urban policy issues.
---
Uptown Brampton Business Needs
The Canadian Urban Institute is currently working with the City of Brampton to better understand the needs of local businesses. Uptown Brampton will grow and change over the next two decades, with a Light Rail Transit station set to arrive in 2024. The area will transform from a primarily car-oriented community into higher-density, mixed-use, family-oriented, healthy, and walkable transit-oriented community. The business community in Uptown contributes significantly to Brampton's local economy. As the neighbourhood changes, the City of Brampton wants to continue to provide opportunities for small businesses and entrepreneurs to thrive in Uptown. Drawing on our experience with the Bring Back Main Street project throughout 2020 and 2021, CUI is partnering with Brampton to conduct data analysis, a survey of business owners, a focus group, and interviews to better understand the challenges and opportunities facing businesses in the area.
---
The Space Project
The Canadian Urban Institute is working on The Space Project in partnership with Why Not Theatre, an award-winning performing arts organization based in Toronto. A challenge within the arts and culture sector is access to space. As real estate becomes increasingly expensive, spaces become more difficult to access and operate for artists.
With support from the Metcalf Foundation, CUI and Why Not Theatre are exploring the potential of "meanwhile leases" to build a space-use model and framework that can be replicated throughout Toronto and eventually across Canada.
Over the course of 2021, we will be undertaking an environmental scan of similar initiatives, a survey to better understand the needs of artists, and a market study to hone in on the quantity, quality and location of vacant space. We will also be convening partners in the real estate industry to better understand barriers, regulatory changes and incentives that could facilitate making space temporarily available to artists.
The project aims to develop a replicable business model, and potentially develop an online app that can be used across the country to connect the arts and culture sector with space.
The arts play a vital role in creating vibrant spaces, firing our imaginations and empowering our communities, and through The Space Project we hope to expand, preserve, and celebrate the arts in our cities.
---
Good Density


Promoting understanding of

density and

the attributes of complete communities.
By 2031, 12 million people will live and work in the same land area currently occupied by 9 million people in the Greater Golden Horseshoe. More people in the same space means living at a greater density is inevitable. We identify and promote an understanding of density and the attributes of complete communities to help planners, designers, elected officials, and private sector builders design more complete communities and adapt existing communities over time. 
Recent Projects
Smart Planning for Smart Cities


Applying digital technology to empower and connect communities.
With the steady expansion of the Internet of Things (IoT), there is significant opportunity for Canadian municipalities to empower their communities through information and communications technology (ICT) and connectivity. We work with cities to help them understand how they can employ data and connected technology to support smarter, healthier, and more equitable and sustainable communities.
Recent

P

rojects
Downtowns & Main Streets


Making the case for investment in Canada's

downtowns.
Canada's downtowns come in many shapes and sizes. They are economic centres, hubs of social and cultural activity and the source of pride and community. We use our skills in research, data measurement, visualization and engagement to support local governments and downtown stakeholders to make the case for increased investment in their downtowns and main streets.
Recent Projects
Community Resilience & Sustainability


Supporting the transition to resilient, low carbon communities.
Climate change presents opportunities to rethink the way we design, build and live in urban areas. Through our work, we help communities identify their biggest challenges to becoming more resilient and sustainable and develop the conversations, research, tools and strategies to make the changes needed to address them.
Recent Projects
Housing Affordability


Using new forms of equity, policy and land-use to increase housing affordability

.
The lack of suitable affordable housing in cities across Canada is a significant problem that all orders of government must work together to address in partnership with the private, non-profit, and co-operative housing sectors. Our work focuses on understanding the housing market challenges and exploring how a variety of tenure options and alternative equity models can support affordable housing, particularly for the missing middle.  
Recent Projects
---
Recent
Projects & Partners
Downtown BIA 2.0 Study


City of Toronto and Downtown Core BIAs
The Downtown Core BIA 2.0 Study was initiated by Toronto's 6 Downtown Core Business Improvement Associations (BIAs) and the Toronto BIA Office, in recognition of the value of working together to address shared issues and enhance their ability to represent their members. CUI began working on this project in early 2020 starting with a current state report to provide the context for the current BIA model and the common roles, responsibilities, priorities and challenges among the Downtown Core BIAs. While the project was put on hold due to COVID, future planned work includes best practices research, an analysis of the differences between small and large BIAs, an Options Report and Final Report with Recommendations.
Improving Electricity Conservation in Small-Medium Municipal Water Distribution Systems Across Ontario


Independent Electricity System Operator
This pilot project was created by CUI to refine and test the application of a low tech, low cost water-energy performance tool in 3 small / medium water delivery systems in Ontario. The aim is to develop a tool that could be used by municipalities across Ontario to identify electricity reduction strategies. The project will deliver new and/or upgraded hydraulic models for each pilot system, a commercial ready, user friendly water energy performance tool, training workshops for system operators, a user guide / training manual, continuous project evaluation, a communications plan and a lessons learned report.
Halton Hills Climate Adaptation Plan


Town of Halton Hills
CUI was the lead on The Town of Halton Hills Climate Change Adaptation Plan. The Plan aims to minimize the negative impacts of climate change, as well as take advantage of opportunities to strengthen the Town's resilience to climate change. Thevision, goals and actions were developed through a collaborative process, and guide the Town in strengthening current policies, developing new programs and practices, and identifying the steps necessary to integrate climate adaptation as a core practice within the Corporation.
Durham Smart City Framework


Region of Durham
The Durham Smart Cities Framework was developed to provide the Region of Durham with guidance on how to move forward with its smart city work in an organized and strategic way. It will serve as a foundation for the Region to develop a Smart City Master Plan and develop a strong application for the federal government's next Smart City Challenge or successor initiative. It included an inventory of existing projects, recommendations for implementing a smart city program, guidance on working with the public, private and community partners and a decision-making support tool.
Soils Bylaw Tool Update


Ministry of Environment

Conservation and Parks
In 2016, CUI developed the Excess Soil Bylaw Tool, which provides examples of by-law language and guidance for Ontario municipalities to use in creating or updating key sections of their excess fill by-laws. Now, CUI is working to update the Tool and provide new guidance to municipalities on how to integrate the new provincial regulations on soils management (O. Reg. 406/19) into their by-laws. The project includes a survey and working with a Steering Committee to determine areas for improvement of the Tool, stakeholder workshops, and a webinar.