---
The Value of Investing in Canadian Downtowns
The Canadian Urban Institute (CUI) was engaged by the International Downtown Association – Canadian Issues Task Force to carry out one of the most significant reviews of Canadian downtowns to date.
This 'living' project is the first of its kind – examining 17 downtowns across Canada to assess changes in attitudes, perceptions, functionality and performance over time. This project is envisaged to act as a resource for city builders, compiling evidence-based research that illustrates the importance of investing in downtowns. It also aims to inspire and inform city builders, with many excellent and innovative approaches to downtown revitalization and the various efforts that are being applied across the nation.
As part of this publication, this research examines downtown Charlottetown, Kingston, Hamilton, St.Catharines, Windsor, Regina and North Vancouver. The earlier round of this research issued in May 2012 examined Halifax, Fredericton, Ottawa, Toronto, London, Winnipeg, Saskatoon, Edmonton, Vancouver and Victoria. As part of this publication, findings from both studies have been integrated to provide readers with an extensive picture of the contribution being made by downtowns across Canada.
All of these research efforts, when combined, are powerfully contributing to our collective knowledge of the value of investing in Canadian downtowns.
Interim Report and Round 1 Case Studies (HALIFAX, FREDERICTON, OTTAWA, TORONTO, LONDON, WINNIPEG, SASKATOON, EDMONTON, VANCOUVER, VICTORIA)
Round 2 Case Studies (HAMILTON, NORTH VANCOUVER. ST. CATHARINES, REGINA, WINDSOR, KINGSTON, CHARLOTTETOWN)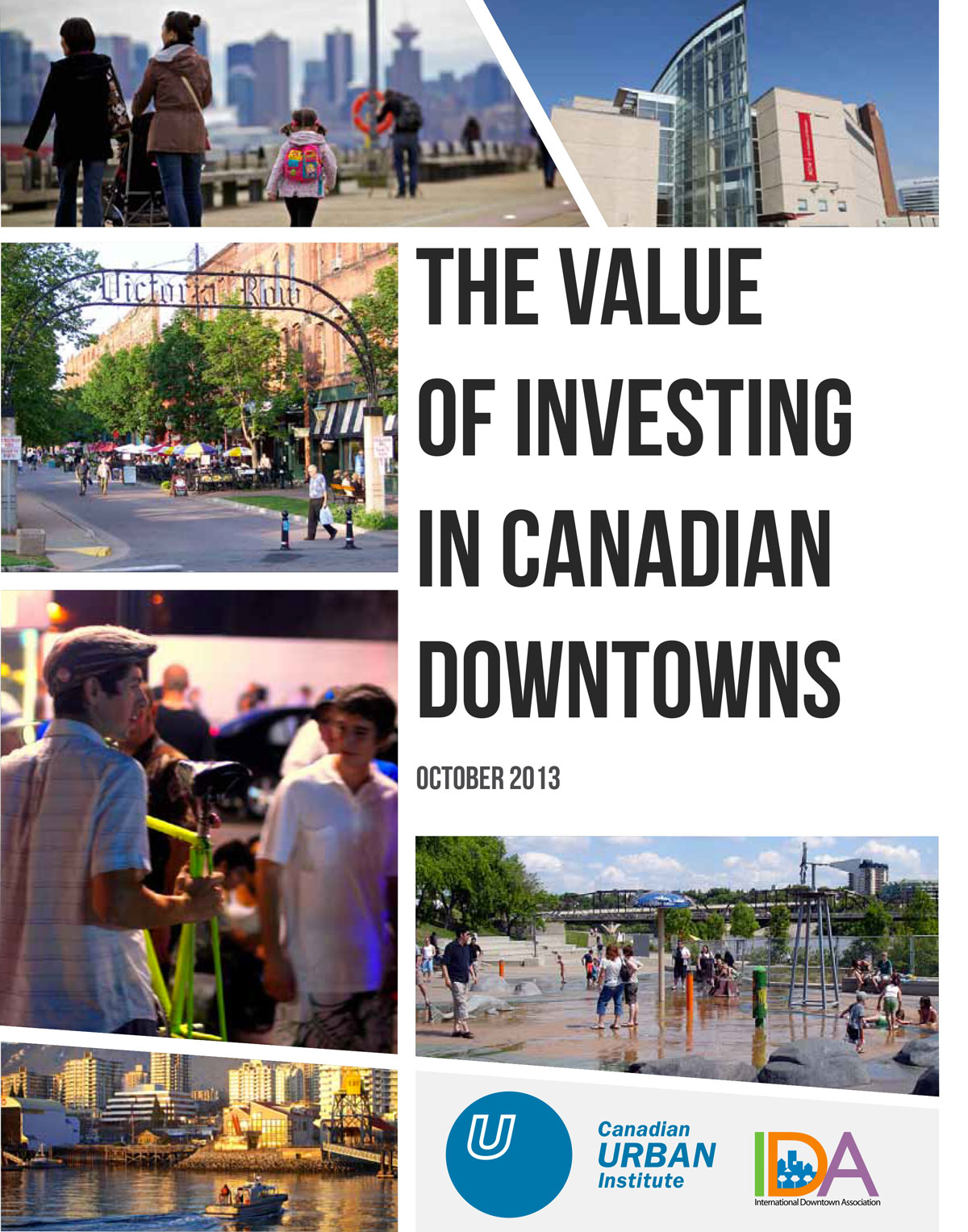 ---
Partners:
International Downtown Association / Regina Downtown BID / The City of Regina / St. Catharines Downtown Association / City of St.Catharines / Downtown Charlottetown Inc / The City of Charlottetown / The City of North Vancouver / The Downtown Windsor BIA / The City of Windsor / The City of Hamilton / Downtown Hamilton BIA / City of Kingston / Downtown Kingston! BIA / Downtown Victoria Business Association / Downtown Vancouver BIA / City of Vancouver / City of Edmonton / The Partnership – Saskatoon / City of Saskatoon / Downtown Winnipeg BIZ / City of Winnipeg / City of London / Downtown London Downtown / Yonge BIA / Downtown Rideau / City of Ottawa / Downtown Fredericton Inc. / City of Fredericton / Downtown Halifax Business Commission / Halifax Regional Municipality