---
At the Crossroads: Summit on the State of Canada's Cities
On November 30, 2023 we are bringing together the most influential Canadians for a Summit on the State of Canada's Cities at the Shaw Centre in Ottawa.
Canada is at a crossroads in its social and economic development.
We need ambitious, coordinated leadership from all sectors, to make the best choices in public policy, investment and to create the conditions for robust growth that will support people and their local communities.
Together, we'll identify priorities going forward, focusing on charting the right course to address key urban challenges and strengthen our economic capacity to deliver wealth, opportunity and environmental sustainability.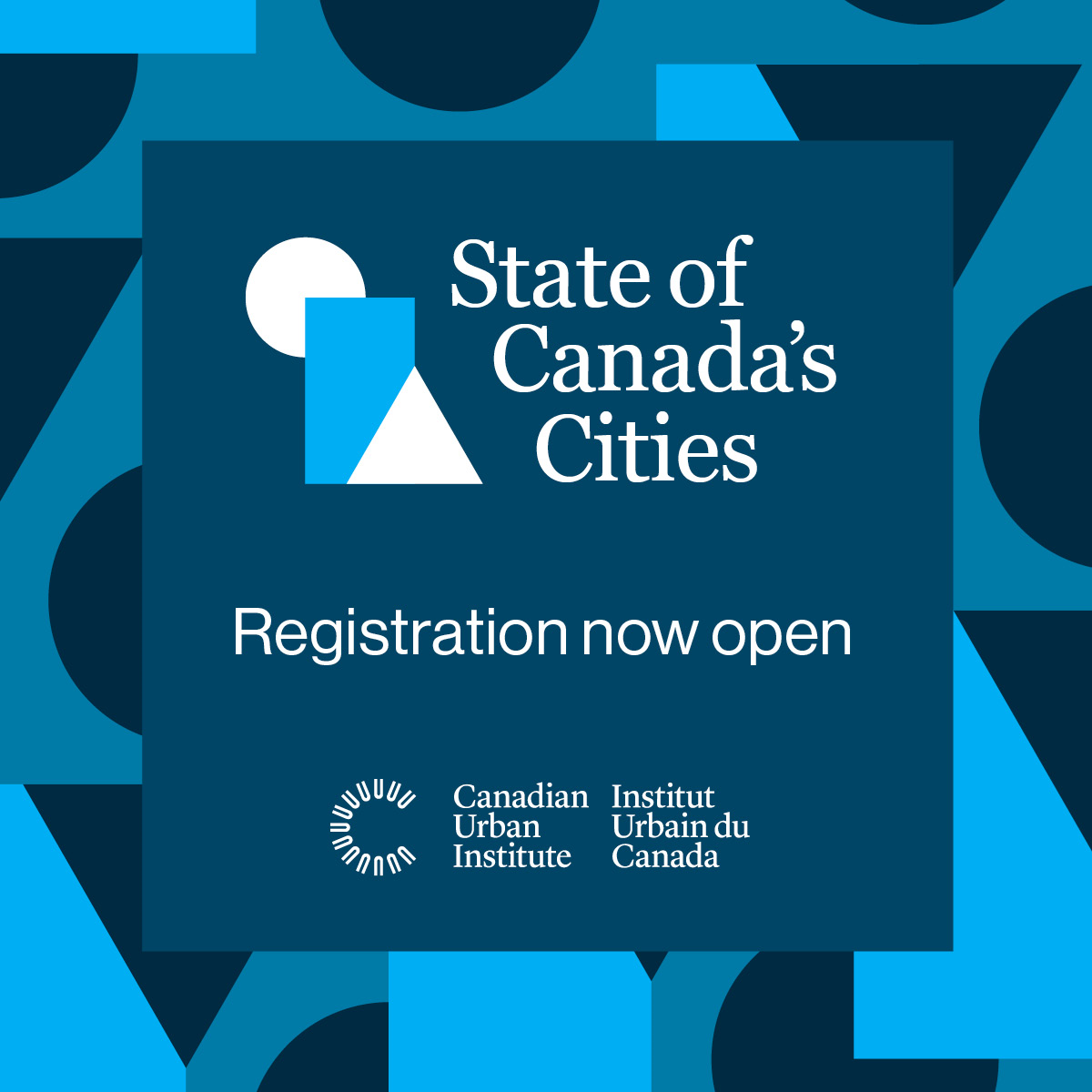 ---
About
The State of Cities Summit is a critical in-person convening of city builders who are passionate about the challenges and opportunities facing our urban spaces from coast-to-coast.
Date: November 30, 2023
Time: 9:00am – 5:30pm
Location: The Shaw Centre, 55 Colonel By Drive, Ottawa, ON K1N, Ottawa, ON K1N 9J2
Languages: Simultaneous translation in both official languages will be available.
Report: we are releasing the first annual State of Canada's Cities report at the summit. It aims to provide a clear picture of where our cities stand. It is now available through the link below.
---
Agenda
Subject to change.
9:00am

Welcome and Indigenous Context Setting

Mary W Rowe, President, Canadian Urban Institute
Grandmother Irene Compton, the Grandmothers Council & founder of the Minwaashin Lodge for women and children escaping violence

9:30am

The Kind of 'Problem' Canada's Cities Are: Navigating the Future in a Global World

Canada is one of the most urbanized countries in the world, with over 80% of the population living and/or working in an urban community of more than 5000 people. However, policy and investment decision-making by both the public and private sectors is challenged by fiscal and governance arrangements constructed almost two centuries ago, when Canada had a much smaller, less concentrated and less culturally diverse population, and a much simpler economy. The pandemic, coupled with the challenges posed by technology, and timely imperatives with respect to climate, equity, and reconciliation put inordinate pressures on leaders from the public and private sectors to meet local needs, support local solutions-finding, build local capacity and create opportunities for everyone. Hazel McCallion, the long-time Mayor of Mississauga famously said: in Canada the federal government has all the money, the provinces all the power, and the municipalities all the problems. How can we fix this?

Moderator: Janice Stein, Founding Director of the Munk School of Global Affairs & Public Policy at the University of Toronto

10:30am

A Shared Challenge 

Marion Mollegen McFadden, Principal Deputy Assistant Secretary, Community Planning and Development,

U.S. Department of Housing and Urban Development, Washington, D.C

Bruce Katz, CEO, The New Localism, Washington D.C.
Naheed Nenshi, Community Builder, The Ascend Group, Former Mayor, Calgary

11:15am

What's at Stake: Canada's future will be won or lost in our cities

Every challenge facing Canada manifests most acutely where most Canadian residents live: food security, adapting to climate change, creating job and wealth building opportunities, settling newcomers, decarbonizing our economy, providing mental health and housing support. Almost every metric of success presented in ministerial mandate letters for the federal or provincial governments is dependent on the capacity of Canada's urban regions to harness innovation, social and financial capital. How do we harness our potential, and what happens if we can't?

Moderator: Karen Chapple, Director, School of Cities, University of Toronto

12:00pm

Unraveling the Gordian Knot: The need for place-based approaches to address national and local challenges

Despite challenging and financial governance arrangements, local solutions are being incubated constantly in Canadian communities all the time, but we lack the kinds of connective tissue we need to effectively plan and implement across municipal boundaries and sometimes competing jurisdictions. How can we pursue place-based policy and program strategies that better serve our urban communities and regions and therefore the country– more effectively? What are the models we need to learn from, adapt and adopt?

Moderator: Peter Sloly, CEO, Sloly Solutions Inc.

12:30pm

Lunch

1:00pm

From Fragile States to Fragile Neighborhoods: Why local places matter

In this session, US scholar Seth Kaplan and Canadian community-economy builder Zita Cobb grapple with reimagining neighborhoods as the most critical unit of organization in North America. This challenges classic perspectives on the nation-state, amplifying the local.

Introducer: Mark Beckles, Vice President, Social Impact Innovation, RBC Corporate

1:40pm

Bookselling by Octopus Books

2:00pm

Ground-truthing:  Strategies for Success

Building on the challenges set out in the morning sessions, what are the tangible approaches being taken in local communities to strengthen social, economic and environmental resilience, and make our cities more productive and equitable. What must each sector do to contribute to the new urban agenda?

Moderator: Jane Talbot, CEO, Downtown Vancouver

2:45pm

Intervention Points in the System: Policy-making and Leadership

Canada has many institutions and organizations, community organizations and businesses, committed to working with each other and governments to develop and implement the best solutions. What are the most effective ways to create transformational change, at a policy making policy level and then in translating policy to practical action on the ground?

Moderator: Lisa Helps, Executive Lead, BC Builds, Project Origination and Process Innovation, BC Housing

Elizabeth McIsaac, President, Maytree
Ehren Cory, CEO, Canada's Infrastructure Bank
Graham Carr, President, Concordia University, Montréal
Phil Teijeira, Vice President & Chief Customer Officer, Enbridge Gas Inc.
Fanny Tremblay-Racicot, Professeure agrégée, Ecole Nationale d'Administration Publique

3:30pm

What Success Looks Like

:

Agency and Opportunity

 

CUI has framed every conversation it has convened since March 2020 as what is working, what's not, and what's next for Canada's cities and urban regions.  These final two sessions bring together participants to highlight their solutions but also identify the key obstacles to further success, and the levers governments have and must exercise for Canada to succeed in this poly-crisis environment. 

Moderator: Jeb Brugmann, Founding Principal at Resilient Cities Catalyst

4:15pm

What Success Looks Like:

Leveraging

Our Assets

 

Moderator: Carolyn Whitzman, Expert Advisor, HART project at the University of British Columbia

5:00pm

Recap and Send Off

5:30pm

Reception
---
Speakers
Alexandra Flynn

Associate Professor, Allard School of Law at UBC

VANCOUVER, BC

Dr. Alexandra Flynn is an Associate Professor at Allard School of Law at the University of British Columbia where she teaches and researches in the areas of law and cities. Her work focuses on the constitutional role of cities and urban governance, and she has published numerous peer-reviewed articles, reports, and media articles in leading publications. She is currently leading CMHC and SSHRC-funded projects focused on Canada's housing crisis: the Housing Assessment Resource Tools project, which redefines and helps to measure housing need; and the Balanced Supply of Housing Node, which brings together academic and non-profit community organizations to research responsive land use practices and the financialization of housing. She is also working on several projects related to precariously housed people in Canadian cities, including the governance of personal property of precariously housed people, and human rights and tent encampments.

Alkarim Devani

President, RNDSQR

CALGARY, AB

Alkarim's vision is to promote gentle density and middle housing, fostering housing diversity and sustainability in established neighborhoods across Canada. Emphasizing livability, accessibility, and inclusion, he aims to connect more people to the simple pleasures of walkable neighborhoods with vibrant local businesses, while ensuring that our elderly and vulnerable populations always have a place within our communities. Rooted in his hometown of Calgary, he is dedicated to improving urban life and fostering connections among people everywhere. As the President of RNDSQR and a Doctorate of Design candidate at the University of Calgary, his ideas are rooted in his work and everyday life. In addition, Alkarim is a proud board member of the Calgary Housing Corporation, the city's largest housing affordability provider, and D.Talks, an organization committed to furthering discussions on all things design.

Ana Bailão

Head of Affordable Housing and Public Affairs, Dream Unlimited Corp.

TORONTO, ON

Ana Bailão is the head of affordable housing and public affairs for Dream Unlimited Corp. She is a municipal leader and housing expert, former Deputy Mayor of Toronto, long-time City Councillor, and former candidate for mayor. After establishing a successful career in the private sector Ana was first elected to City Council in 2010. In her 12 year tenure at Toronto City Hall she served on multiple committees, and represented Toronto at the Federation of Canadian Municipalities, achieving national recognition for her work as one of Canada's leading voices for city-building and housing. As the Chair of Toronto Community Housing and the city's inaugural Chair of Housing and Planning Ana secured unprecedented billions in investment from other governments for housing, and championed innovative solutions including historic planning and zoning changes, and established CreateTO to manage city real estate. In 2023 Ana placed a solid second in the largest by-election in Canada's history with a strong campaign for mayor focused on housing and city services. Today, Ana remains focused on making cities more livable and inclusive, working with partners across all sectors and regions.

Andre Corbould

City Manager, Edmonton

EDMONTON, AB

Corbould is a graduate of civil engineering from the Royal Military College of Canada and has a master in management from the University of Canberra, as well as a master in defence management and policy from the Royal Military College of Canada. He is the City Manager at the City of Edmonton.

Andrew Bond

Medical Director, Inner City Health Associates

TORONTO, ON

Dr. Andrew Bond is the Medical Director of Inner City Health Associates (ICHA) in Toronto, one of Canada's largest community health organizations. He is one of Canada's inaugural National Health Fellows, a member of a number of the Province of Ontario's health transformation and digital health innovation committees, and has served as a policy group member of the Royal Society of Canada during COVID. Andrew also advises public sector organizations, governments and the private sector on the development of integrated systems strategies to complex social, business and policy problems.

 

Brian Bowman

Vice President, Canada Life; Former Mayor, City of Winnipeg

WINNIPEG, MB

Brian Bowman served as Winnipeg's Mayor from 2014-2022 and made history by reportedly becoming the first Indigenous Mayor of a major Canadian city. Under his leadership, Brian guided the City's response to the global pandemic, transformed its reconciliation and human rights efforts, while delivering more than $2.5 billion in tri-level government funding for infrastructure to support Winnipeg's steady population growth. He currently serves as Vice-President, Sustainability and Social Impact for Great-West Lifeco (Canada Life).

 

Bruce Katz

CEO, The New Localism

WASHINGTON D.C

Bruce Katz is the Founding Director of the Nowak Metro Finance Lab at Drexel University in Philadelphia. Previously he served as inaugural Centennial Scholar at Brookings Institution and as vice president and director of Brooking's Metropolitan Policy Program for 20 years. He is a Visiting Professor in Practice at London School of Economics, and previously served as chief of staff to the secretary of Housing and Urban Development and staff director of the Senate Subcommittee on Housing and Urban Affairs. Katz co-led the Obama administration's housing and urban transition team. He is coauthor of The Metropolitan Revolution and The New Localism: How Cities Can Thrive in the Age of Populism, editor or coeditor of several books on urban and metropolitan issues, and a frequent media commentator.

Carolyn Whitzman

Expert Advisor, Housing Assessment Resource Tools (HART) Project, University of British Columbia

OTTAWA, ON

Dr. Carolyn Whitzman is a housing and social policy consultant. She is an expert advisor to the Housing Assessment Resource Tools (HART) project based at UBC, which is developing standardized best practices for doing housing need, land, and acquisition assessments, using detailed, open data. Carolyn is the author, co-author or lead editor of six books, including most recently Clara at the Door with a Revolver (UBC Press, 2023), and the forthcoming How to Home: Fixing Canada's Housing Crisis (UBC Press, 2024). She has provided expertise to national, state/provincial and local governments, UN Women, UN Habitat, and private and non-profit organizations.

Cathie O'Toole

Chief Administrative Officer, Halifax Regional Municipality

HALIFAX, NS

HRM is home to almost half a million residents and is the economic, financial, educational, social and cultural centre for the Maritime region and is made up of more than 200 diverse communities over nine regions.   Halifax is one of the fastest growing cities in Canada and a large regional municipality. Cathie has three decades of leadership and public sector experience and is a Chartered Professional Accountant and has been recognized as a Fellow of the Chartered Professional Accountants (FCPA) of Nova Scotia.  She also has a Master of Business Administration from Laurentian University, a Bachelor of Arts from Dalhousie University, and is a member of the Institute of Corporate Directors serving on several Boards.

Don Iveson

Executive Advisor, Climate Investment and Community Resiliency, Co-operator and former Mayor, Edmonton

EDMONTON, AB

Don served as Edmonton's Mayor from 2013 to 2021 and as Chair of Canada's Big City Mayors for five years. He is ramping up Civic Good, a public policy advisory practice working on climate, housing and governance projects with like-minded clients ranging from startups to governments, including Co-operators where he works as Executive Advisor for Climate Investing and Community Resiliency. Don also volunteers as Board Co-Chair of the Canadian Alliance to End Homelessness, is Co-Chair of the Clean Economy Fund's Climate and Housing task force, and is a Canadian Urban Leader at the University of Toronto School of Cities.

Donnie Rosa

Executive Director, Ḵ'iyáx̱an Ch'áwch'aw

VANCOUVER, BC

With over 30 years' experience in parks, recreation, planning, facility management, operations, arts, culture, and community building, Donnie Rosa (they/she) has been a champion of equity, diversity & inclusion. Currently the Executive Director for Squamish First Nation responsible for Community Services including: Nexwsp'áyaḵen ta Úxwumixw (Community Operations), Senáḵw Operations, Ta na wa Ch'áwat ta Sxwéxwel (Squamish Valley Operations), Ta na wa Shéway I7xw ta Úxwumixw (Planning & Capital Projects), Ta na wa Téywilhaylhem (Public Safety), and T'at'amátsut (Community Lands). In this portfolio they are accountable to assist the Nation in their goal to house all Nation members within a generation by providing leadership on the construction of over 600 new housing units under construction by 2025.

 

Ehren Cory

CEO, Canada Infrastructure Bank

TORONTO, ON

Ehren Cory is the CEO of the Canada Infrastructure Bank (CIB), an impact investor that develops the next generation of infrastructure Canadians need. He is a recognized leader in sustainable finance and infrastructure investing in Canada. Ehren joined the Canada Infrastructure Bank in 2020, bringing his strong leadership approach, infrastructure expertise, and a track record of delivering results by partnering with the private and public sectors. He is focused on the CIB's strategic direction to accelerate infrastructure investment in Canada and building the CIB as a results-oriented organization. Prior to joining the CIB in November 2020, Ehren was the president and CEO of Infrastructure Ontario, a provincial Crown Agency responsible for financing, building, and enhancing the value of the province's infrastructure and real estate assets. He became CEO in 2017 after spending four years with the Agency in executive roles responsible for the successful transaction structuring, tendering, and delivery of billions of dollars in infrastructure projects.

Elizabeth McIsaac

President, Maytree

TORONTO, ON

Elizabeth McIsaac is the president of Maytree, an organization committed to advancing systemic solutions to poverty through a human rights-based approach. In addition to building policy solutions and strengthening communities, she has led Maytree to a deep focus on advancing the human right to adequate housing through strategic opportunities with cities and other orders of government. Elizabeth is a dedicated builder and champion for the non-profit sector, with a long history at Maytree. She previously served as the director of policy and was the executive director of one of Maytree's signature ideas: the Toronto Region Immigrant Employment Council (TRIEC). Before returning to Maytree, Elizabeth established and led Mowat NFP (Not-for-Profit Policy) at the Mowat Centre, where she undertook research analyzing the challenges facing the non-profit sector. She currently serves as the chair of Making the Shift, a social innovation lab focused on youth homelessness.

Fanny Tremblay-Racicot

Professeure agrégée, Ecole Nationale d'Administration Publique

QUEBEC CITY, QC

Fanny Tremblay-Racicot is a tenured professor in municipal and regional administration at the École nationale d'administration publique (ENAP) and the director of the Centre de recherche sur la gouvernance (CERGO). Her research program focuses on institutional reforms, public policy instruments, and management strategies to achieve sustainable urban development goals. With numerous publications on transportation and land use governance, her current research projects delve into the analysis of territorial policies for circular economy, the affordability of transit-oriented developments, and the use of new municipal fiscal powers for the benefit of energy transition in transportation and planning.

Graham Carr

President, Concordia University

MONTREAL, QC

Graham Carr is President and Vice-Chancellor of Concordia University. He is also a member of the Board of the Chamber of Commerce of Metropolitan Montreal, the Executive Committee of the Bureau de coopération interuniversitaire, and the Steering Committee of Montreal Climate Partnership (Partenariat climat Montréal). He currently serves as Chair of the Universities Canada Research Committee and Chair of the Board of U SPORTS, the national brand for university sports in Canada.

Graham Singh

Founder and CEO, the Trinity Centres Foundation

MONTREAL, QC

Graham Singh is Founder and CEO of the Trinity Centres Foundation, a Canadian charity established to transform historic city centre church properties into impactful community hubs and new housing. TCF's team of advisors from the social innovation, property finance, urbanism and faith sectors help to assemble, fund and operate projects across Canada and have released over $75 million in property value, back to local communities. Over the past 15 years, Graham has also led four historic building and community renewal projects in the United Kingdom and Canada, as an ordained minister in the Anglican Church. Graham is a graduate of the University of Western Ontario (Huron College), the London School of Economics, St Mellitus College & Cambridge University, Asbury Theological Seminary and is a guest lecturer at the Said Business School at Oxford University. He is also a professional member of the Canadian Association of Heritage Professionals. Graham is married to Céline and they live with their three children, in Montreal, Quebec.

Irene Compton

Co-Founder of Minwaashin Lodge

ANISHINABE ALGONQUIN TERRITORY

Irene Compton is co-founder of Minwaashin Lodge celebrating 30 years of work there. She is an inter-generational survivor of the residential school system. Her work at the lodge supports women survivors of lethal violence, assisting them with safety plans, stabilization, healing and employment & education achievement. Irene is the Keeper of the stories at Minwaashin's Sacred Lodge which connects Indigenous women to their culture, identity and pride.

Jane Talbot

President & CEO, Downtown Vancouver

VANCOUVER, BC

Jane Talbot, President and CEO of the Downtown Vancouver Business Improvement Association (Downtown Van), has dedicated her career to mission-driven organizations, including influential roles at the BC Persons With AIDS Society, BC SPCA, and the YMCA of Greater Vancouver. Each of these positions has further ignited her passion for making a meaningful impact on the lives of Vancouver's residents. In 2017, Jane joined Downtown Van as the Director of Operations, deepening her connection to the community. This role served as a crucial stepping stone for her current position as President and CEO. Jane's unwavering commitment to community service drives her to lead Downtown Van relentlessly towards positive change. Her visionary leadership leaves an indelible mark on the thriving heart of Vancouver, shaping the future of the city's business community.

Janice Stein

Founding Director, Munk School of Global Affairs and Public Policy at UofT

TORONTO, ON

Janice Gross Stein is the Belzberg Professor of Conflict Management and the Founding Director of the Munk School of Global Affairs and Public Policy at the University of Toronto. She is a Fellow of the Royal Society of Canada and an Honorary Foreign Member of the American Academy of Arts and Sciences. She is a Fellow of the Kissinger Center at the School of Advanced International Studies at the Johns Hopkins University  and has received Honorary Doctorates of Law from universities in Canada and abroad.  She is a member of the Order of Canada and the Order of Ontario and a frequent guest on the CBC and the BBC. She has a widely listened to podcast, Friday Focus, that appears every Friday. Most recently, she co-Chaired the National Advisory Committee on Canada's Indo-Pacific Strategy for our Foreign Minister.

 

Jeb Brugmann

Founding Principal, Resilient Cities Catalyst

TORONTO, ON & NEW YORK, NY

Jeb has a 35-year career working with cities to establish new practices for local sustainability, social equity and justice. In the 1980s, as National Coordinator of Local Elected Officials for Social Responsibility, he led the establishment of the Sanctuary Cities movement in the United States. In 1989/90, he founded ICLEI-Local Governments for Sustainability, and as Secretary General from 1990-2000 built the worldwide organization. In this capacity, Jeb established the UN-sponsored, worldwide Local Agenda 21 initiative for urban sustainability planning, which by the year 2000 had involved more than 6,400 communities in 113 countries. He also co-founded ICLEI's Cities for Climate Protection campaign, which engaged more than 500 cities in climate mitigation planning.

Joy Cramer

CEO, Southern Chiefs' Organization Inc.

WINNIPEG, MB

Joy Cramer is Chief Executive Officer of the Southern Chiefs' Organization (SCO) serving the 34 Anishinaabe and Dakota Nations in southern Manitoba and more than 85,500 citizens. She is a proud citizen of Sagkeeng First Nation with maternal ties to Sandy Bay First Nation. SCO made international news for its vision of reconciliation when HBC gifted the iconic Bay building in downtown Winnipeg to SCO. The multi-million dollar project will be one of the largest heritage redevelopments in Canada, providing economic and social opportunity. Previously Joy was Director of Indigenous Graduate Programs with the Beedie School of Business at Simon Fraser University where she led international academic partnerships with the United States, New Zealand, and Australia. Joy made history when she became the first First Nations woman to be appointed a Deputy Minister in Manitoba, after beginning her career with the Province of Manitoba in another groundbreaking role as the first First Nations Director of Child Welfare in Canada.

Karen Chapple

Director, School of Cities at University of Toronto

TORONTO, ON

Karen Chapple, Ph.D., is Director of the School of Cities and Professor in the Department of Geography and Planning at the University of Toronto. Chapple, who is a Professor Emerita at UC Berkeley, received the 2023 Regional Studies Association's Sir Peter Hall Award for Lifetime Contribution to the Field.

 

Kathleen Wynne

Former Premier, Ontario

TORONTO, ON

Kathleen Wynne was Ontario's 25th Premier. She was first elected to the Ontario legislature in 2003 as the MPP for Don Valley West, and she became the leader of the Ontario Liberal Party in January 2013.

Kathleen has dedicated her professional life to building a better province for the people of Ontario. She and her government were guided by the values and principles that knit this province together: fairness, diversity, collaboration and creativity. Kathleen has served as Ontario's Minister of Municipal Affairs and Housing, Minister of Aboriginal Affairs, Minister of Transportation, Minister of Education and Minister of Agriculture and Food.

Lisa Helps

Executive Lead, BC Builds, Project Origination and Process Innovation, BC Housing

VICTORIA, BC

Lisa Helps is the former two-term Mayor of Victoria, British Columbia. She is currently working as Housing Solutions Advisor to Premier Eby for the start-up of BC Builds, a new housing program that will use public land, low-cost financing, and other innovative tools to get more housing built more quickly for working people in B.C. As Mayor, Lisa worked hard to create deep collaboration across the community to get Victoria ready for the future and built connection across the province as Co-Chair of the BC Urban Mayors Caucus to advance shared priorities for cities. Areas of focus included economic development and prosperity, housing, climate action, resilient infrastructure, and reconciliation. Please see www.lisahelpscities.ca for more information.

 

Margaret Pfoh

CEO, Aboriginal Housing Management Association

LAX KW'ALAAMS FIRST NATION, BC

Margaret is Tsimshian, a member of the Lax Kw'alaams Band and a descendent from the Eagle Clan. She joined the non-profit housing sector more than 27 years ago and is the CEO of the Aboriginal Housing Management Association (AHMA). Margaret's career has been built on her dedication to serve and support Indigenous Peoples and she currently serves on both the CHRA's Indigenous Housing Advisory Caucus and the CHRA's Board of Directors as President. Her devotion to Indigenous communities expands far beyond the Provincial housing sector. Margaret actively represents the urban Indigenous voice at both national and international levels by addressing and advancing housing rights for Indigenous Peoples.

Marion Mollegen McFadden

Principal Deputy Assistant Secretary, Community Planning and Development, HUD.

WASHINGTON, D.C.

Marion Mollegen McFadden oversees the administration of federal financial assistance to assist communities in ending homelessness, creating, and preserving affordable housing, strengthening local economies, and disaster recovery and mitigation. Before joining the Biden-Harris Administration, PDAS McFadden served as Senior Vice President for Public Policy and Senior Advisor for Resilience at Enterprise Community Partners where she led affordable housing policy development, research, and advocacy to create healthy, green affordable housing and to support natural disaster resilience planning.

Mark Beckles

Vice President, Social Impact & Innovation, RBC

TORONTO, ON

Mark has over 25 years' experience in financial services, Mark has executive leadership experiences in banking, insurance, risk management and non-profit leadership. Mark leads the strategic execution of RBC's Social Impact portfolios including RBC Future Launch, RBC Tech for Nature and RBC Emerging Artists. Mark also leads stakeholder relations to cultivate and maintain key relationships across Canada including policy makers, partners and stakeholders to advance RBC's community investment priorities.

Mary W. Rowe

President & CEO, Canadian Urban Institute

TORONTO, ON

Mary W. Rowe is a leading urban advocate and civil society trailblazer who has worked in cities and with communities across Canada and the United States. Mary was President of the Canadian platform Ideas That Matter, a convening and publishing program based on the work of renowned urbanist Jane Jacobs, when a mid-career fellowship with the US-based blue moon fund led her to New Orleans. There she worked with national philanthropy, governments and community activists to support rebuilding through micro-investments in neighbourhood projects for seven years in the aftermath of Hurricane Katrina. Prior to joining CUI as President and Chief Executive Officer, Mary lived in New York City and served as Executive Vice President of the Municipal Art Society (MASNYC), one of America's oldest civic advocacy organizations focused on the built environment.

Maureen Adamson

President, Fleming College

PETERBOROUGH, ON

Maureen Adamson was appointed as the sixth president of Fleming College effective August 20, 2018. She has more than 25 years of progressive leadership experience in the postsecondary, health care, government and not-for-profit sectors. Prior to joining Fleming, Maureen was the Deputy Minister of Tourism, Culture and Sport and the Deputy Minister of the Status of Women for the province of Ontario. She served as President and CEO for the Michener Institute for Applied Health Sciences, as CEO for Cystic Fibrosis Canada, and as Vice-President Corporate Services at Mohawk College.

Maxime Pedneaud-Jobin

Former Mayor of Gatineau and Author

GATINEAU, QC

Collaborateur à La Presse depuis août 2022. Conseiller municipal dans son quartier de 2009 à 2013, il est ensuite élu maire de Gatineau. Réélu en 2017, il décide de ne pas se représenter en 2021. Il a fondé Action Gatineau, le premier parti politique de la nouvelle ville de Gatineau. Ses mandats ont été marqués par une plus grande présence de Gatineau sur la scène nationale.

Meric Gertler

President, University of Toronto

TORONTO, ON

One of the world's foremost authorities on cities, innovation, and economic change, Gertler has advised governments in Canada, the US, and Europe. He is a director of the MaRS Discovery District, a trustee of Toronto's Hospital for Sick Children, chair of Universities Canada and the Presidential Steering Committee of the U7+ Alliance of World Universities, and past chair of the U15 Group of Canadian Research Universities. He is a fellow of the Royal Society of Canada and the Academy of Social Sciences (UK), a corresponding fellow of the British Academy, and a member of the Order of Canada.

 

Naheed Nenshi

Former Mayor, City of Calgary, Community Builder, The Ascend Group

CALGARY, AB

Nenshi served as Calgary's mayor for three terms between 2010 and 2021, during which Calgary was named one of the best cities to live in the Western Hemisphere. In recognition of his leadership, Nenshi was awarded the World Mayor Prize in 2014 by the City Mayors Foundation. He is also the recipient of the President's Award from the Canadian Institute of Planners and the Humanitarian Award from the Canadian Psychological Association for his contribution to community mental health. Prior to his election, Nenshi served as Canada's first tenured professor of non-profit management at the Bissett School of Business at Mount Royal University.

Patrick Sullivan

President and CEO, Halifax Chamber of Commerce

HALIFAX, NS

Patrick Sullivan is the President and CEO of the Halifax Chamber of Commerce. He is the Immediate Past Chair of the Canadian Global Cities Council (CGCC). In March 2020, in response to the pandemic, Mr. Sullivan created and Chaired the Nova Scotia Business and Labour Economic Coalition to become a point of contact for government as they made rapid decisions, to advocate for business and their employees at this challenging time, to ensure all Nova Scotians are heard and supported, and to assist in the development of a recovery plan. He is a proud MSVU alumni with a Bachelor of Administration.

Patti Pon

President and CEO, Calgary Arts Development

CALGARY, AB

Calgary Arts Development president and CEO Patti Pon (she/her/hers) is a veteran community and arts champion with an extensive track record of leadership and service in Calgary and beyond. Patti has deep and diverse experience in the arts sector, she came to the position of president and CEO following her position as director, resource development, Calgary Arts Development. Prior to working at Calgary Arts Development Patti held a number of senior leadership roles in arts organizations, primarily in Alberta.

Her community service includes being a board member of the Agora Foundation – publisher of The Philanthropist Journal, chairing the Program committee for the Action Chinese Canadians Together (ACCT) national leaders summits 2019. 2021 and 2023 and is the first woman of colour elected to the board of the Calgary Stampede.

Paul Johnson

City Manager, City of Toronto

TORONTO, ON

Paul Johnson is the City Manager for the City of Toronto. As the fourth largest city in North America, Paul oversees delivery of programs and services to more than three million people whose diversity and experiences make this great city Canada's leading economic engine. A proud public servant, Paul is committed to making community connections and enhancing the quality of life for all Toronto residents. Away from work Paul is a basketball official who has "blown the whistle" at thousands of games at the local, provincial and national levels.

Pedro Antunes

Chief Economist, The Conference Board of Canada

OTTAWA, ON

Pedro Antunes is the Chief Economist at The Conference Board of Canada where he provides insights and general direction for economic products, which include reports and economic indicators about Canada, its regions, and sectors. He provides professional testimony before parliamentary and senate committees along with media appearances in both English and French. Pedro is widely sought to speak to industry leaders and decision-makers on a wide range of issues and topics impacting Canadians.

 

Peter Sloly

CEO, Sloly Solutions Inc.

OTTAWA, ON

Peter Sloly is the CEO of Sloly Solutions Inc which provides strategic security and safety services to governments and private/public sector organizations including c-suite supports to executive teams and governance boards.  Peter was a professional athlete, a Deloitte partner, and a police officer who rose through the ranks to become Chief of Police.  Peter is a dynamic speaker with vast experience and expertise in justice sector modernization, organizational culture change, physical/cyber security, and integrated human services operations for community safety and well-being strategies.  He is also a life-long champion for human/privacy rights, diversity, equity, inclusion, and anti-discrimination. Peter's career took him to five continents and over fifty countries which included two tours of duty in the United Nations Peacekeeping Mission in Kosovo. Peter is a recipient of the United Nations and Canadian Peacekeeping medals.  He was invested as an "Officer of the Order of Merit" (Police Forces) by Canada's Governor General.  He has an MBA and a Sociology BA.  He is a graduate of the FBI National Academy and the Canadian Forces College "National Strategic Security Studies" program.  Peter's professional mission is to develop ethical change leaders, socially just communities, smart safe cities, and inclusive sustainable societies. His personal motto is "others before self, compassion for all". Peter was born in Jamaica, immigrated to Canada, and lives in Ottawa with his wife and two children.

Phil Teijeira

Vice President & Chief Customer Officer, Enbridge Gas Inc.

TORONTO, ON

Phil is accountable for the long-term strategy of the utility's customer interface functions, including the systems and processes that support the business' 3.9 million retail customers. Phil was appointed to the role in March 2023, and leads the Customer Care Operations, Distribution In-Franchise Sales and Large Volume contracting teams. He also oversees Enbridge Sustain, a new unregulated line of business that provides convenient energy solutions to help customers reduce greenhouse gas (GHG) emissions and energy costs.

Prentiss Dantzler

Faculty Advisor, School of Cities at U of T

TORONTO, ON

Dr. Prentiss Dantzler is an Assistant Professor of Sociology and Faculty Advisor within the School of Cities at the University of Toronto. His research focuses on housing policy, neighborhood change, race relations and community development. Dr. Dantzler studies why and how neighborhoods change and how policymakers and communities create and react to those changes. He received his Ph.D. in Public Affairs with a concentration in Community Development from Rutgers University-Camden. He also holds an M.P.A. from West Chester University and a B.S. from Penn State University.

 

Romy Bowers

President & CEO, Canada Mortgage and Housing Corporation
TORONTO, ON

Romy Bowers, President and CEO of CMHC since April 2021, leads a team of housing experts working to help everyone in Canada have a home that they can afford and that meets their needs. Romy believes CMHC can be a catalyst for solving housing affordability challenges and a leader in building a housing system that is equitable and free of systemic racism. Romy joined CMHC in 2015 as Chief Risk Officer. She also served as CMHC's Chief Commercial Officer and, more recently, as SVP of Client Solutions. Before joining CMHC, Romy had a diverse career in the Canadian banking industry.

Scott Stirrett


Founder and CEO, Venture for Canada

TORONTO, ON

Scott is the Founder and CEO of Venture for Canada (VFC), a national charity that fosters entrepreneurial skills and mindsets in young Canadians. VFC's programs recruit, train, and support young Canadians to work at Canadian small and medium sized businesses (SMEs). Through these programs, young people gain the skills, networks, and experiences to be more entrepreneurial and impactful.

Seth Kaplan

Author, Fragile Neighborhoods

WASHINGTON, D.C.

Seth D. Kaplan is a leading expert on fragile states. He is a Professorial Lecturer in the Paul H. Nitze School of Advanced International Studies (SAIS) at Johns Hopkins University, Senior Adviser for the Institute for Integrated Transitions (IFIT), and consultant to multilateral organizations such as the World Bank, U.S. State Department, U.S. Agency for International Development, and OECD as well as developing country governments and NGOs.

 

Stéphan Déry

President & CEO, Canada Lands Company

TORONTO, ON

Stéphan Déry is President and CEO of Canada Lands Company. He leads hundreds of employees responsible for the development and management of major real estate holdings and the operation of some of Canada's most cherished attractions. Stéphan is a seasoned real estate professional who was responsible for the delivery of the entire suite of real property services to federal departments and agencies at Public Services and Procurement Canada.

 

Ursula Eicker

Founder, Next Generation Cities Institute at Concordia University

MONTRÉAL, QC

Prof. Ursula Eicker is the Canada Excellence Research Chair (CERC) in Smart, Sustainable and Resilient Communities and Cities as well as Founder of the Next-Generation Cities Institute at Concordia University.

Prior to working at Concordia University, Prof. Eicker is a German physicist who received her Ph.D. in Solid State Physics from Heriot-Watt University and her Habilitation in Renewable Energy Systems from the Berlin Technical University. She has held leadership positions at the Stuttgart University of Applied Sciences and the Centre for Sustainable Energy Technologies. She coordinated many international research projects in building energy efficiency, renewable energy systems, and urban scale simulation. Since June 2019, she is leading an ambitious research program to establish transformation strategies toward zero-carbon cities.

 

Vic Gupta

CEO, CreateTO

TORONTO, ON

As CEO of CreateTO, Vic Gupta is focused on managing the stewardship of the City of Toronto's real estate assets and optimizing the portfolio to deliver city-building benefits, enable City program solutions and ensure cost-effective program delivery. He served as Principal Secretary to Mayor John Tory during the Mayor's first term in office. Prior to his time at City Hall, he ran Prime Strategies Group, a public affairs consulting business that he founded in 1999. When the company was acquired in 2011 he ran for elected office, twice as a candidate for the Member of Provincial Parliament in the riding of Richmond Hill. He has an Honours Bachelor of Arts in Political Science from the University of Western Ontario.

Zita Cobb

President & CEO, Shorefast

FOGO ISLAND, NL

Zita Cobb was born on Fogo Island in 1958, part of the eighth generation in her family to call the island home. Forced to leave after the collapse of the inshore cod fishery, she and her family ended up in Ontario, Canada where she studied business in Ottawa. Following a subsequent successful career in high-tech, Zita returned to Fogo Island and established Shorefast in 2004 with two of her siblings, Alan and Anthony Cobb.
---