---
A Call to Courage: An Open Letter to Canadian Urbanists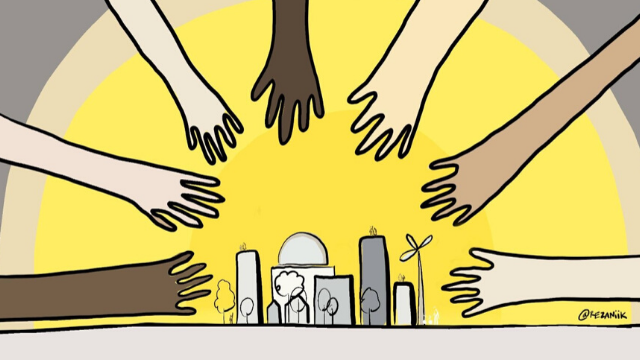 Late last year, our President & CEO Mary Rowe began a conversation with Jay Pitter, award-winning place-maker and author, about collaborating on initiatives to increase equity within Canadian city-building. While we were in the early stages of building our partnership, the pandemic hit. That both disrupted and concretized our plans to work together. Jay was an early guest on our CityTalk platform, where we talked about some of the gaps in mainstream urbanism and how they are inadvertently causing harm to equity-seeking groups.
Within weeks, a civil uprising began to unfold against the backdrop of the public realm—the central domain of urbanism practitioners. Recognizing the urgency of the moment, our team huddled on how we could address this moment.
With the support of CUI in the background as respectful allies, this week Jay curated and moderated a CityTalk live session entitled: How do we respond to anti-Black racism in urbanist practices and conversations? Attended by over 2,000 participants from dozens of cities across Canada and the United States, this conversation initiated a crucial time of reckoning for anyone engaged in city-building. As a follow up, Jay has released A Call to Courage: An Open Letter to Canadian Urbanists. In it, she articulates a disheartenment about the silence among urbanists, provides a clear history outlining how anti-Black racism is concretized in urbanist practices, constructively critiques the language around equity and highlights how we can be better in this regard. She calls on urbanists across cities, racial backgrounds and professional disciplines to embrace the spirit of humility and curiosity to learn more about the history of anti-Black racism and urbanism, and not only speak out against anti-Black racism and all forms of urban inequities but also to have the courage to address these issues. She ends the letter by highlighting the following key recommendations.
Acknowledge that urban design is not neutral, it either perpetuates or reduces social inequities;
If you haven't been doing equity-based placemaking work prior to the pandemic, kindly refrain from exploiting this moment and allow urbanists with the professional competence and lived experience to lead;
Reflect on how your implicit biases – unconscious thoughts and stereotypes – may influence how you view an individual, group or entire neighbourhood;
Review policies and practices that may be creating invisible barriers for team members from equity-seeking groups to make meaningful contributions within your municipality or organization/firm;
Don't conflate an embrace of equity with compromising excellence; urbanists from equity-seeking groups possess considerable professional expertise and lived experiences;
Identify and actively work to reduce power imbalances when engaging communities—especially those with histories of exclusion and/or marginalization;
Research the history and untold place-based stories related to all urban design and development projects;
Develop equity-based placemaking guidelines and a personal learning agenda.
Jay goes a step further than making the Call to Courage. She has also developed a toolkit to support urbanists in starting this work. The Call to Courage also includes resources including: A Call to Courage Individual Learning Agenda; What is Equity-Based Placemaking?; Intersectionality & Placemaking; Glossary of Equity-Based Placemaking Terms, and a Black Communities and Urbanism Annotated Bibliography.
Access the Call to Courage letter and resource package here
Jay Pitter, MES, is an award-winning placemaker and author whose practice mitigates growing divides in cities across North America. She spearheads institutional city-building projects specializing in public space design and policy, forgotten densities, mobility equity, gender-responsive design, inclusive public engagement and healing fraught sites. What distinguishes Jay is her multidisciplinary approach, located at the nexus of urban design and social equity, which translates community insights and aspirations into the built environment. Ms. Pitter also makes significant contributions to urbanism theory and discourse. She has been named the John Bousfield Distinguished Visitor in Planning by the University of Toronto, and her forthcoming book, Where We Live, will be published by McClelland & Stewart, Penguin Random House Canada.
Illustration by Reza Nik