---
CUI x Windsor
CUI x Windsor was a virtual listening tour to learn about local issues facing Windsor and connect the dots across urban Canada. From June 15 – June 17, we listened to and learned from local stakeholders on their most pressing challenges, and surfacing examples of innovative and locally-driven solutions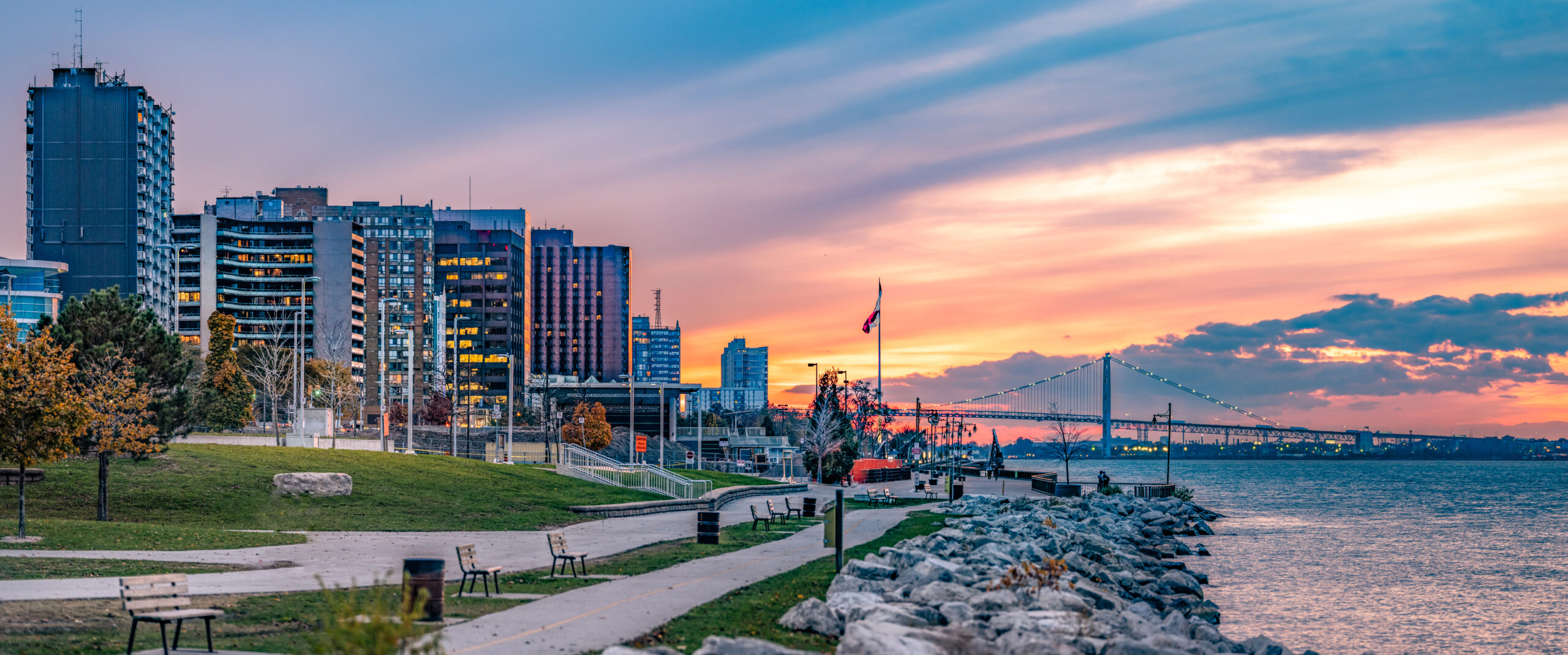 ---
CUI x Local is a virtual listening tour to gather interpretations, data, assessments, priorities, bright spots and stories from on-the-ground voices to help deepen our collective understanding of the interconnected and interdependent issues facing urban Canada.
Alongside local partners, we are organizing listening tours involving a combination of public and invitation-only meetings and activities.
By looking at local issues and connecting them nationally, CUI x Local will strengthen the connective tissue within and across communities from coast to coast to coast.
From June 15 – June 17, CUI visited Windsor, Ontario, where we met with leaders across the board on challenges the city is facing, and how they're responding to them.
---
Schedule
Please note: As visitors and settlers to Windsor, we first must acknowledge the land on which the city sits now is the traditional territory of the Three Fires Confederacy of First Nations, which includes the Ojibwa, the Odawa, and the Potawatomie. We also acknowledge the weight First Nations people across the country carry with the recent discovery of 215 children on residential school grounds in Kamloops. This year as we honour Indigenous Peoples throughout National Indigenous History Month and beyond, we encourage everyone to read the work of the Truth & Reconciliation Commission and its 94 Calls to Action.  Additional resources for survivors and families is available on the TRC website.
---
Here are some of Windsor's bright spots, local organizations and leaders from Windsor:
The Gordie Howe International Bridge will connect Windsor and Detroit and feature a bike path between Canada and the US! The multi-use path will work for pedestrians and cyclists. Community, including Bike Windsor Essex, advocated for the appeal and usefulness of the route to support active transportation and a healthy lifestyle while also contributing to cycle tourism across the border. Pedestrians and cyclists will need to bring passports/documentation to cross the border when the bridge opens in 2024 — but Canada will waive the bridge tolls.

Cradle to Career

 is a vision by ProsperUs supporting local youth and children in Windsor-Essex with the opportunities they need to succeed and unlock their potential from pre-natal health for moms all the way through to landing their first job as a young adult

Windsor International Film Festival

– WIFF is Canada's largest volunteer-run film festival, selling over 43,000 paid tickets in 2019. In 2020, due to the pandemic, WIFF cancelled its traditional festival and organized a drive-in event called WIFF Under The Stars. Selling out, the event attracted 7,000+ guests to safely enjoy films for adults and families alike.

BETTY Bookmobile

– The Windsor Public Library is offering their bookmobile service with a new fully electric cargo bike. Named BETTY, or Bringing Entertainment and Technology to You, the bike moves will move around the city offering Windsorites the Windsor Public Library offering, wherever they live in the community.

Thrive Amherstburg

: A group of volunteers have joined together to help inspire a thriving community in Amherstburg – a community just outside of Windsor. Thrive's initial placemaking objectives include affordable housing, parks, public art, and active transportation — all in an effort to create a town that thrives.

Windsor Pizza Club

. Did you know that Windsor boasts its own style of pizza that it claims is the best in the world? The library has posted a page on the history of it here.  The pizza club encourages participants to dine with 8 partnering pizzeria – and if you eat at all of them you will be rewarded with a commemorative t-shirt.

Nonna's Shopping List

 –invites locals to explore Windsor's own Little Italy, as if it was "nonna's" shopping – the Italian grandmother. The list serves as a self-guided trail of Italian local businesses and history.

Windsor's Resilient Voices

 – by Windsor's Poet Laureate Emeritus Marty Gervais and Poet Laureate Mary Ann Mulhern, bringing poetry to Windsor community in an innovative way – placing short 6-line inspirational poems on interior advertisement spaces across the Transit Windsor fleet on buses, on social media, and throughout select City of Windsor facilities including the WFCU Centre Vaccination Clinic

Chat & Chew Monthly Zoom Gathering

 – a Zoom session on the fourth Tuesday of each month from March to July to discuss topics of EDIA (equity, diversity, inclusion, and accessibility) through an anti-racist lens to get grassroots ideas and actions going

Thrive

 – a new initiative at the Art Gallery of Windsor to offer bimonthly virtual peer facilitated drop-in art-based programming for young people, aims to offer young people, particularly 2S-LGBTQQIA+ youth a space to meet, learn, and grow through the arts and culture

Open Streets Windsor

– is an annual community event in Windsor that temporary closes 8km of roadways to vehicular traffic, allowing people to use them for a host of healthy and fun physical activities like walking, cycling, yoga, dancing, and fitness. The event will return to Windsor in September 2021.
---
CUI was proud to have collaborated with lead local partners, the Windsor Law Centre for Cities and the University of Windsor, along with the City of Windsor, the Small Business & Entrepreneurship Centre and Invest WindsorEssex.
Other partners included the Downtown Windsor Districting Committee, Downtown Windsor Business Improvement Association (DWBIA), Ford City BIA, United Way of Windsor-Essex, the Windsor Essex Community Foundation, the Black Council of Windsor-Essex, Windsor-Essex Youth Climate Council (WE-YCC), Hôtel-Dieu Grace Hospital Youth Advisory Council, the YMCA of Southwestern Ontario, local ward funds of City of Windsor Councillors Rino Bortolin (Ward 3), Chris Holt (Ward 4), Kieran McKenzie (Ward 9), Fabio Costante (Ward 2) and Gary Kaschak (Ward 8), Jim Morrison (Ward 10), and other local organizations.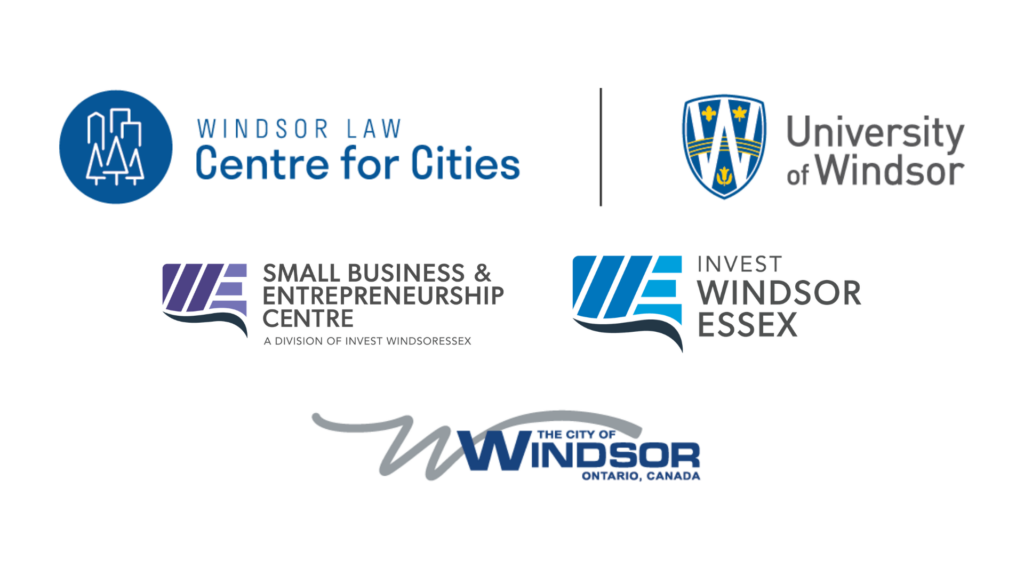 ---
Lisa Cavicchia
Program Director
lcavicchia@canurb.org